was Michael Jackson. I can't remember how old I was, but I was born in 1981 so I was young. But, boy oh boy, I was in love!
My dad took my sister and me to a MJ concert one year. I can't remember the concert at. all. but I remember sitting in the stadium waiting for everyone to clear out. You see, my sister, Binsky, had fallen asleep and Dad wanted to wait until everyone left so that it would be easier to carry her to the car.
As we were walking out a lady stopped to tell us something terribly sad. Michael Jackson had walked through the hall.
Right there, right where we were standing.
Michael Jackson had signed something for her.
Right there, right where we were standing.
Only we weren't standing there when it happened. We were sitting in our seats waiting because Binsky was asleep.
I was SO sad. Distraught, even. It really tore me up... I could have seen the man of my dreams and I missed him! IL was sad for a long time, until I became mad. I became mad because one day Binsky informed me that she was not, in fact, sleeping at the time. She had been pretending so that she could get carried to the car.
This is a punishable offense. Some one, quick, come up with a punishment.
So, I spent this morning scouring the web for pictures of Michael where he didn't look like he was missing chunks of his nose, or where his skin wasn't so white it was translucent. I tried to find pictures that flattered him, pictures that showed the best of him. It saddened me to see that it is getting so hard to find the good pictures of him anymore. What happened to him? It also made me laugh... I suppose that my very first celebrity crush, the very first man I fell in love with, had more to tell about my future than I ever really noticed.
I was engaged before I had Angel Boy and married El Vaquero. Yes, I was.
He was from Barbados. This makes him Bajan. This also makes him black.
I also have been known to kiss girls at bars.
I guess I shouldn't be surprised.
Yesterday, after the news was released, and even this morning, I have a heavy heart. No matter what has become of Michael over the years, what he has or hasn't done, he was still the King of Pop. He changed the music and dance world forever. There is no way this world will ever be the same.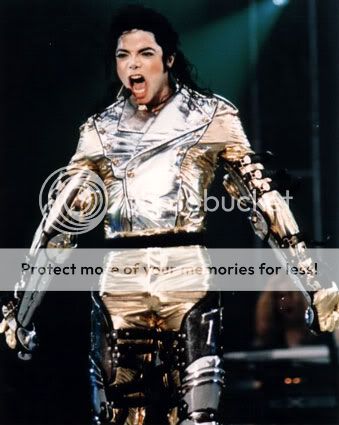 RIP, MJ... the world is not done fighting for you.